A BRIEF ILLUSTRATION OF STEP BY STEP TECHNIQUE IN THE PLACEMENT OF AN IMMEDIATE FRIALIT 2 DENTAL IMPLANT
Dr Firdaus Hanapiah
BDS (Otago) MSc.(Lon.) FDSRCS (Eng.)
INTRODUCTION
After several years of placing several different types of implant systems, I was introduced the Frialit-2 Implant. At first I saw it as another implant system that has come in late to the Asian Pacific region. Upon closer examination, I was attracted to the concept of immediate placement and how the implant is anatomically similar in resembling the former tooth that it was to replace. It was also fortunate that we had several cases in hand when the system was first introduced. Below are step by step technique of placement of the Frialit 2 implant involving two patients over the last six months.
Surgical Steps
STEP 1: Preparation of Patient
After the initial examination and treatment plan has been formulated, the patient was prepared, draped and local anaesthetics given to the site of implant placement.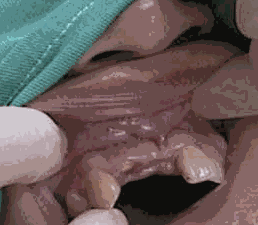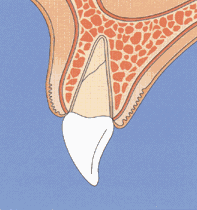 Note in the case above a fractured incisor was left well below mucosal and bone level. Therefore it was decided that an immediate implant to be placed into the socket after its removal
STEP 2 : Opening The Flap and Removal of the Tooth
A wide Trapezoidal flap is open and the tooth in question is removed judiciously with an anterior root forceps.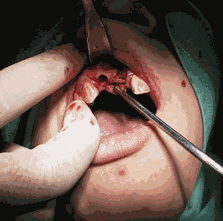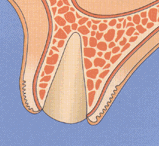 STEP 3 : Twist Drill of Socket
This step involves the introduction of a twist drill 3mm in diameter to the selected length of the implant to be placed. Usually the length of the implant must be at least 3 mm longer than the original tooth to give it some primary stability in bone.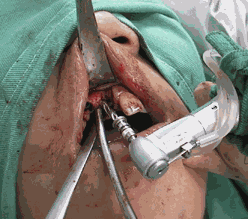 STEP 4: Step Drill Introduce into Socket and Placement of Implant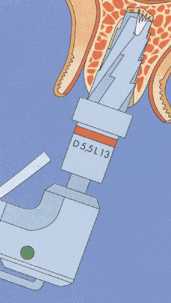 A Step drill is then introduced into the previously prepared socket. The step drill corresponds to the size and length of the implant that is to be placed. In this case it is 5.5-mm diameter and 15mm in length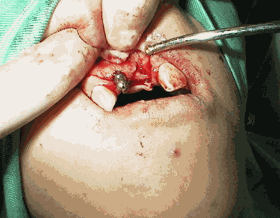 The implant is then carefully remove from the sterile pack and placed with firm finger pressure into the socket. At this stage an opportunity is taken to see if the alignment of the implant to corresponding implant or teeth are correct.
NEXT PAGE >>>